Calatorie Initiatica in Nepal, 21 apr – 5 mai 2020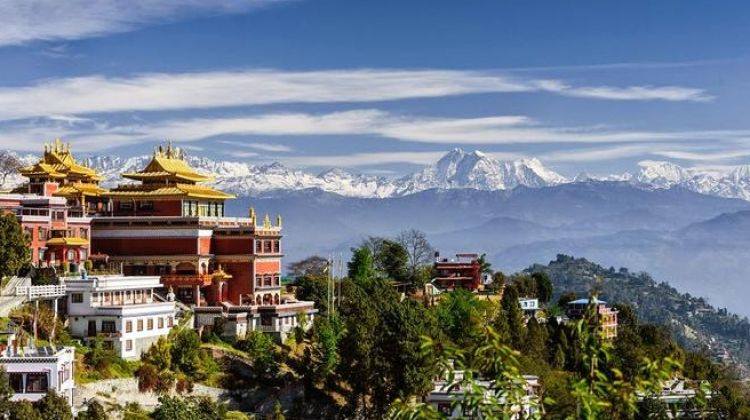 Va invit intr o calatorie initiatica in Nepal in perioada 21 aprilie – 5 mai 2020.
In aceasta calatorie vom intalni maestri si lama tibetani, vom participa la slujbe si ritualuri de purificare, vom medita in locuri sacre, temple buddhiste si vom vizita locuri de vis.
Programul este urmatorul:
1 zi ( 21 apr ) decolarea din Bucuresti
ziua 2 – 6 – vizite, meditatii, intalniri cu lama tibetani si puje ( ritualuri si slujbe tibetane ) in manastirile din Kathmandu ( sunt peste 30 de manastiri in Kathmandu ) plus Dhulikhell
ziua 7 – 9 Lumbimi – locul nasterii lui Buddha, vizite, meditatii, intalniri cu lama tibetani si puja
ziua 10 – 12 parcul Chitwan – safari pe elefanti, plimbari in natura / jungla, foc de tabara, povesti
ziua 13 – Kathmandu, ultimul shoping 🙂 si relaxare
ziua 14 – decolarea spre casa
Pretul acestui program este de 1999 euro si include toate serviciile, biletele internationale, cazarile cu mic dejun inclus, transportul, intrarile la toate obiectivele, viza si asigurare. Hotelurile sunt de 3, 4 si 5 stele.
Data limita pentru inscrieri este 15 decembrie 2020. Dupa aceasta data este posibila inscrierea dar nu mai garantam aceleasi preturi – se scumpesc biletele de avion…
Pentru inscrieri si alte informatii va rog sa ma contactati pe email: calatorii.initiatice@gmail.com sau la tel 0729032755 – Lucian Octavian Papuc
Programul detaliat:
DAY 01: Arrival Kathmandu
Meet, assist upon arrival at the airport and transfer to hotel
Kathmandu is the capital of Nepal and the largest urban agglomerate of Nepal. The agglomerate consists of Kathmandu Metropolitan City at its core, and its sister cities Patan, Kirtipur, Thimi, and Bhaktapur. It also includes the recently recognized urban areas of Shankhapur,Karyabinayak, Champapur, Banepa, Dhulikhel and Panauti. According to a census conducted in 2011, Kathmandu metropolis alone has 975,453 inhabitants, and the agglomerate has a population of more than 2.5 million inhabitants.
The city stands at an elevation of approximately 1,400 meters (4,600 ft) in the bowl-shaped Kathmandu Valley of central Nepal. It is surrounded by four major mountains: Shivapuri, Phulchoki, Nagarjun and Chandragiri.
Rest of the day free at leisure. Overnight at Hotel in Kathmandu
DAY 02: Kathmandu
Am: Sightseeing Tour of Kathmandu City & Swyambhu
Pm: Sightseeing Tour of Boudhnath + Kopan Monastery
Kathmandu Durbar Square: Kathmandu's number one tourist attraction swarms with life. Though a few of the square's 50-plus monuments date from the 12th century, most are from the time of the Malla Kings. Probably the most famous building here is the Kumari Bahal, a building richly decorated with beautiful woodcarvings, which is home to the Royal Kumari, the Living Goddess, a manifestation of the great goddess Durga. Nearby the former Royal Palace is a Malla Dynasty dwelling, once considerably more extensive than today. Within the courtyard of Nassal Chowk, dramatic dance performances were originally hosted, now it is the coronation site of the Shah kings and contains some of the finest wood carvings you will see anywhere in the kingdom.
Swayambhunath: The most ancient and enigmatic of the Valley's holy shrines the golden-spired stupa of Swayambhunath tops a wooded hillock. Records of its history date as far as the 5th century, but its origins are believed to be older. It is the Kathmandu Valley's most sacred Buddhist shrine and whilst its worshippers include the Vajrayana Buddhists of northern Nepal and Tibet, Newari Buddhists are the most fervent devotees.
Bouddhanath: This great stupa is one of Nepal's most distinctive monuments and one of the most important Buddhist sites in Nepal and, with a diameter of over 100 meters, amongst the largest in the world. There are a number of legends accounting for the stupa's construction, but it is generally believed to date from the 5th century. All stupas contain holy relics and Boudha is said to contain the remains of the past Buddha Kasyapa.Boudha is a particular focus for Kathmandu's Tibetan community and throughout the day there is a constant stream of people circling the stupa spinning prayer wheels and reciting mantras. Surrounding the stupa are six major monasteries and a host of smaller ones as well as cafes, restaurants and shops selling Tibetan carpets and Newari silversmiths.
Kopn Monastery is one of largest Buddhist monastery in Kathmandu
Just north of the ancient Buddhist town of Boudhanath is the Kopan hill, which rises up out of the terraced fields of the Kathmandu valley and is visible for miles. Dominated by a magnificent bodhi tree, it was once the home of the astrologer to the king of Nepal. This same hill is now the home of Kopan Monastery, a monastery in the Gelug tradition of Tibetan Mahayana Buddhism under the guidance of Lama Zopa Rinpoche. The air is clean and the view across the valley magical.
It is the home of 360 monks, lamas, teachers and workers. The monks come from all areas of Nepal and Tibet with ages ranging from seven to sixty years old. They have devoted their lives to the study and practice of the teachings of Buddha Shakyamuni, with special emphasis on the teachings of Lama Tsong Khapa, the founder of the Gelug Lineage.
Visitors from all over the world come here to attend courses and enjoy the spiritual atmosphere of the place for study and practice.
Kopan is committed to helping all beings develop their full potential of infinite wisdom and compassion as taught by our founder, Lama Thubten Yeshe, and spiritual director Lama Zopa Rinpoche.
Kopan Monastery is affiliated with the Foundation for the Preservation of the Mahayana Tradition (FPMT), an organization devoted to the transmission of the Mahayana Buddhist tradition and values worldwide through teaching, meditation, and community service. FPMT provides integrated education through which people's minds and hearts can be transformed into their highest potential for the benefit of others, inspired by an attitude of universal responsibility. Rest of the day free at leisure. Overnight at Hotel in Kathmandu
DAY 03: Kathmandu
Am: Sightseeing Tour of Bhaktpur
Pm: Sightseeing Tour of Patan city
Bhaktapur City: A former capital of the valley, it was once a flourishing city on the trade route to Tibet. It has preserved its traditional character better than the other two cities, due to its more isolated location. It is regarded today as a classic showcase of medieval Nepalese town life. It is situated in the east of Kathmandu valley about 14 km. away. It today retains much of its beauty in ornate woodcarvings and in the famed Golden Gate.
The city is famous for its traditional pottery, cloth weaving, wood carving and handicraft production. The major attractions being visited are:
Durbar Square entering the Durbar Square through the Royal Gate a number of temples around Durbar Square are considered the magnum-opus of Nepalese architecture. The Golden Gate leading into the Royal Palace is generally considered as the greatest single masterpiece of art in the valley. Created in 1753 by Jaya Ranjit Malla, it is a monument to the skill and artistry of the craftsmen who produced it.
Patan: Patan, the ancient city, once a kingdom in itself, is situated across the Bagmati River to the south of Kathmandu. Patan Durbar Square offers the finest display of Newari urban architecture in Nepal.There are temples devoted to Shiva, Krishna, Ganesh and Vishnu all actively visited by residents and visitors. At the northern end of the square the ancient sunken water tap has been restored and is still in use with young girls filling huge jugs from the carved stone waterspouts. The courtyards of the Royal Palace with their ornamented windows, columned arcades, shrines and sunken royal bath are amongst the loveliest in all Kathmandu. Overnight at Hotel in Kathmandu
DAY 04: Kathmandu – Dhulikhel( 32 Km – Approximately 1.5 hr drive)
After breakfast drive Panauti.Later continue drive to Dhulikhel
Panauti: is an ancient village, 32 km south east of Kathmandu situated on the banks of Punyamati river. A leisurely walk through this tiny village will reveal it's antiquity to the visitors, a must in Panauti is a visit to the 14th century AD Hindu temple of Shiva locally known as Indreswor Mahadev. The wooden struts supporting the temple are splendid example of wood carving of that era, which till date remain unchallenged in the entire Kingdom.
Dhulikhel
Dhulikhel is situated at an altitude of 5,500 ft above sea level, 30 Kms east of Kathmandu on the Kodari Highway. It is 90 minute's drive from Kathmandu. The city offers a complete panoramic view of the snow-capped ranges from Karyolung in the east to Himalchuli in the west. The view however is not as good as that from Nagarkot, one can see for 130 miles. It is a magnificent place to spend the night and awaken to the sun rising across the wide Himalayan range.
Dhulikhel is famous for countryside drive and viewing Himalayas – the sunrise and sunset over the Himalayas.
Upon arrival in Dhulikhel check-in at hotel.Explore surrounding Dhulikhel.
You can enjoy a walk around the village at your leisure. Evening sunset views over Himalayas.(Subject to weather condition) Overnight at Hotel in Dhulikhel
DAY 05: Dhulikhel – Namobuddha – Kathmandu
Day excursion to Namobuddha
NAMOBUDDHA, situated at an elevation of 1750m is very important Buddhist Pilgrimage lies about 38 km east of Kathmandu. The Stupa and shrines built in this lovely little hill mark a very ancient holy site significantly enough where a legendary prince named MAHASATTVA offered himself to a starving Tigress with its several underfed cubs. This legendary episode is depicted in a very nice stone slab and depicted right next to a holy Stupa His remaining parts of the body are said to be enshrined in the main stupa which is decorated with prayer flags..
Drive back to Dhulikhel. Overnight at Hotel in Dhulikhel
DAY 06: Dhulikhel – Kathmandu
Em: Sunrise visews over Himalayas.
Afterbreakfast drive back to Kathmandu
Overnight at Hotel in Kathmandu
DAY 07:Kathmandu/ Lumbini (294Km Approximately 7/8/ hr drive)
AM: After breakfast drive to Lumbini. the holy site of Buddha's birth.
Rest of the day at leisure. Overnight at Hotel in Lumbini
DAY 08: Lumbini
Day tour of Lumbini Garden UNESCO World Heritage Site & Monasteries
Lumbini is the place where Lord Buddha – the apostle of peace and the light of Asia – was born in 623 BC Located in the flat plains of South – Western Nepal and the foothills of Churia range, Lumbini and its surrounding area is endowed with a rich natural setting of domestic fauna and a favorable agricultural environment. Historically, the region is an exquisite treasure trove of ancient ruins and antiquities, dating back to the pre-Christian era. The sites described as a beautiful Garden in the Buddha's time still retain its legendary charm and beauty.
The places to be visited in Lumbini are The Ashokan Pillar, Image of Maya Devi, Puskarni – the sacred pool, Sanctum – sanctorum of the Birthplace, the Buddhist temple etc. Overnight at the Hotel in Lumbini.
DAY 09: Lumbini
Day at leisure for optional activites
Clients can do meditation, visits Tibetan monasteries and pujas
(Clients can do pujas in the monastery. For equivements, have to pay directly. Rest donation will except).
Rest of the day at leisure
Overnight at Hotel in Lumbini
DAY 10: Lumbini – Chitwan ( 145 Km approximately 3/4 hrs drive)
Afterbreakfast drive back from Lumbini to Chitwan.
Pm: Jungle activites.(Subject to time permit)
CHITWAN NATIONAL PARK
The most easy of the national parks organizing jungle safaris to reach, the Royal Chitwan National Park is considered one of the richest wildlife areas in Asia and boasts the last and largest remaining areas of tall grassland habitat. Renowned for centuries as one of the best areas for wildlife viewing in Asia, the diverse flora and fauna of this Terai region attracts visitors from all over the world. Not to be compared with the wide open spaces of Africa, the intimacy of the search and discovery of asian wildlife in its dense habitat is considered by many travellers to be equally rewarding and exciting. the big animals favour the dense jungle and tall grasslands of the floodplain.
Lunch,Dinner & Overnight at Hotel in Chitwan
DAY 11: In Chitwan
Breakfast at Resort.
Full day Jungle activities as per Resort's program.
Lunch, Dinner & Overnight at hotel in Chitwan.
DAY 12: Chitwan to Kathmandu( 185 Km approximately 4/5 hrs drive )
Em; Jungle activites.
Afterbreakfast drive back to Kathmandu
Overnight at Hotel in Kathmandu
DAY 13: Kathmandu
Am: Excursion to Dakshinkali
Pm: Sightseeing tour of Kirtipur and Chovar
Dakshinkali Temple or Dakshin Kali Temple,[1] located 22 kilometres (14 mi) outside Kathmandu and about 1 kilometer outside the village of Pharping, is one of the main temples of Nepal dedicated to the goddess Kali. Animal sacrifices, particularly of cockerels and uncastrated male goats, are the main way that the goddess is worshipped, and this is especially seen during the Dashain festival.
Kirtipur: It is a small town, 8 km southwest of Kathmandu and situated stop a hill. Tribhuvan University, Nepal's premier seat of education, is located at the foot hills of Kirtipur. This historic town has many things to offer like old shrines and temples and old houses. Some of the folks are typically dressed in traditional costumes and can be spotted working on looms.
Chobhar caves are an extensive network of natural caves near the village of Chobhar, which is located 9 km southwest of Kathmandu,Nepal. Chobhar is also known for the Chobhar gorge through which all the water of the valley drains. A small temple of Adinath Sampradayasits on top of a nearby hill. The temple offers a view of snow-capped mountains. Overnight at Hotel in Kathmandu
DAY 14: Kathmandu Departure to Bucharest
Va astept cu drag,
O zi placuta!
Lucian Octavian Papuc
www.calatorii-initiatice.ro
tel 0729032755
21 aprilie
marți @ 10:00 pm - 10:00 pm
Detalii
Început:

aprilie 21 @ 10:00 pm

Sfârșit:

mai 5 @ 10:00 pm

Categorie Eveniment:
Organizator
Lucian Octavian Papuc